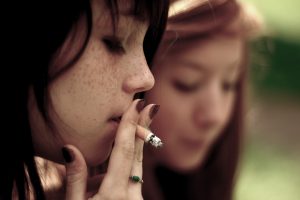 Tobacco marketing in a community drives youth experimentation with tobacco and transition to regular use. In fact, exposure to this marketing in community stores is correlated with higher rates of youth tobacco use. Further, tobacco products sold in smaller, cheaper packages and with youth-appealing flavors promote youth initiation and unwitting addiction. Communities may combat youth tobacco use by regulating where and how tobacco may be sold (see our resources in Point of Sale Policies). For more information on the role retail tobacco marketing plays in recruiting youth users, visit our resources below.
Resources:

Cause and Effect: Tobacco Marketing Increases Youth Tobacco Use
Excerpts from the 2012 Surgeon General's Report highlighting the effect of tobacco marketing on youth tobacco use, accompanied by evidence-based policy solutions to reduce youth exposure to tobacco marketing.
Retail Stores as Recruitment Centers for Youth Smokers
Fact sheet describing the impact on youth of pervasive tobacco product marketing in the retail environment.
Tobacco 21
Fact sheet describing the evidence in support of raising the Minimum Legal Sales Age for tobacco products to 21.