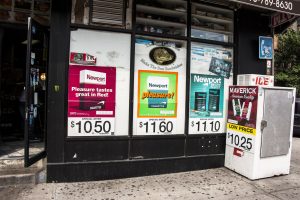 Tobacco companies spend billions of dollars each year marketing their deadly products in community stores. Through rigid contracts and substantial payments to stores, tobacco manufacturers ensure that retailers act as a conduit for Industry marketing. Consequently, ubiquitous retail marketing drives tobacco use by providing environmental cues to use tobacco, attracting new youth users, and triggering impulse purchases by users attempting to quit.
Learn more about the problem of retail tobacco marketing by viewing our resources below. For interventions that reduce exposure to tobacco marketing, visit our Point of Sale Policies page.
Resources:
U.S. Tobacco Companies Spend Billions Marketing Their Products
Fact sheet showing that tobacco companies spend the majority of their billions of marketing dollars to control the retail environment and keep product prices low. 
Point of Sale Problem in Numbers
Fact sheet identifying key statistics about retail tobacco marketing and its effect on youth tobacco use.
Retail Stores as Recruitment Centers for Youth Smokers
Fact sheet describing the impact on youth of pervasive tobacco product marketing in the retail environment.
Advancing Tobacco Control: The Known the New and the Next
Excerpts and summaries of the 2014 Surgeon General's Report highlighting the harmful health effects of tobacco use and the need for effective evidence-based policies to prevent youth initiation and support successful quit attempts.