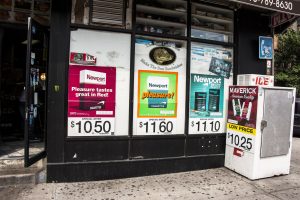 Tobacco companies spend billions of dollars each year marketing their deadly products in community stores. Through rigid contracts and substantial payments to stores, tobacco manufacturers ensure that retailers act as a conduit for Industry marketing. Consequently, ubiquitous retail marketing drives tobacco use by providing environmental cues to use tobacco, attracting new youth users, and triggering impulse purchases by users attempting to quit.
Learn more about the problem of retail tobacco marketing by viewing our resources below. For interventions that reduce exposure to tobacco marketing, visit our Point of Sale Policies page.
Resources:
Our tobacco control resources have been removed until further notice.