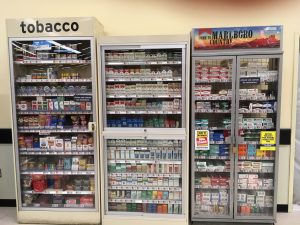 Tobacco marketing in community stores drives tobacco use. To reduce harmful exposure to tobacco marketing, communities may regulate where and how tobacco is sold. These "point of sale" (POS) policy interventions include regulating the number, type, and location of tobacco retailers, and limiting their use of price promotions that make tobacco products cheaper and more accessible. Evidence shows that POS policy interventions limit tobacco company influence on the community, and thus reduce youth tobacco initiation and promote health equity. Visit our resources below to learn more about POS policy options for controlling exposure to harmful tobacco marketing in your community.
Resources:
Point of Sale Policy: New York Communities Taking Action
Guide identifying progressive local tobacco controls that limit tobacco industry influence in the retail environment.
Tobacco Retail Licensing: Promoting Health Through Local Sales Regulation
Technical report providing the public health rationale for regulating tobacco sales through a local retail license. The report describes how to implement a tobacco retail license and offers a model policy that restricts the sale of tobacco products.
Regulating Sales of Flavored Tobacco Products
Regulating Sales of Flavored Tobacco Products
Tobacco Price Promotion: Policy Responses to Industry Price Manipulation
Research report providing an overview of tobacco industry pricing strategies to promote use of their deadly products, as well as an introduction to price-related strategies that states and localities may adopt to combat the the industry's aggressive price promotions.
Tobacco Price Promotion: Local Regulation of Discount Coupons and Certain Value Added Sales
Research report and model policy for local jurisdictions explaining the use of price promotions by the tobacco industry and their effect on tobacco use, particularly among disadvantaged communities.
Model Policy Restricting the Sale of Tobacco Products
Model policy for New York communities seeking to limit the number, type, and location of tobacco outlets, restrict sales of flavored tobacco products, and restrict sales of price-discounted tobacco products. The model implements these sales provisions through a local retail license and may be tailored to fit a community's needs.
Pharmacies Send Mixed Messages: Giving the Green, Yellow and Red Lights to Smoking
Fact sheet describing the negative public health consequences of tobacco sales by pharmacies.