NYS Executive Actions on E-cigarettes (2019)
The Policy Center is closely following developments and will update this page to reflect the rule's latest status. Meanwhile, we are happy to answer your questions about recent executive actions and relevant challenges. 
October 3, 2019 Update: Enforcement of Emergency Rules Delayed by Industry Lawsuit
New York will not begin enforcing emergency rules that would halt sales of most flavored e-cigarettes for at least 90 days. Enforcement was slated to begin October 4, 2019. Vapor Technology Association, an industry trade group, challenged the rule in state court and requested a temporary restraining order while the case is decided on its merits. On Friday, September 27, 2019, the court denied the request. However, the state Supreme Court reversed this decision, and on October 3, 2019, barred the state from enforcing the sales ban on flavored vaping products until the lower court rules on Vapor Technology Association's motion for a preliminary injunction.
September 26, 2019 Update: New York to Include Menthol-Flavored E-cigarettes in Emergency Rules
After the original emergency rules were approved and took effect on September 17, 2019, New York's Health Department did not delay in gathering the evidence to strongly recommend that the Governor's Office extend the emergency rules to include menthol-flavored e-cigarette products. The Governor accepted this recommendation and requested the Health Commissioner to convene a meeting of the state's Public Health and Health Planning Council (PHHPC) to finalize it as soon as possible.
The Health Commissioner's recommendation presents new evidence showing that New York youth are increasingly using menthol-flavored e-cigarettes, and nearly half incorrectly believe these products to be less harmful than tobacco-flavored e-cigarettes. These data follow preliminary national data showing that more than three in five high school e-cigarette users used menthol or mint flavors in 2019, up from about two in five in 2017. The Governor also recognized flavors are central to tobacco company marketing—a problem across product categories.
It is unclear when the PHHPC will meet to vote on this issue. Meanwhile, the general public and policymakers alike are confronted with conflicting messages about menthol products. Accordingly, it's an especially critical time to provide clear education about the public health benefits of regulating menthol products alongside other flavored products.
September 17, 2019: New York State Takes Emergency Executive Action to Pause Sale of Some Flavored E-cigarettes
Emergency action delivers impactful change; menthol recommendation forthcoming
Following a September 15th announcement by New York Governor Cuomo, an advisory council  approved for emergency adoption a regulation restricting the retail sale of some flavored e-cigarettes, allowing only menthol or tobacco flavors to be sold in New York. The emergency regulation is immediately effective, providing a grace period before local health departments begin enforcement on Friday, October 4, 2019.
In the span of a week, momentum to restrict the sale of flavored e-cigarettes was given a big boost—first by NY Governor Cuomo, and then by President Trump. Alarmed by preliminary data from the 2019 National Youth Tobacco Survey showing that youth vaping continues its unprecedented acceleration, elected officials are calling for action to address the marketing that hooks young users.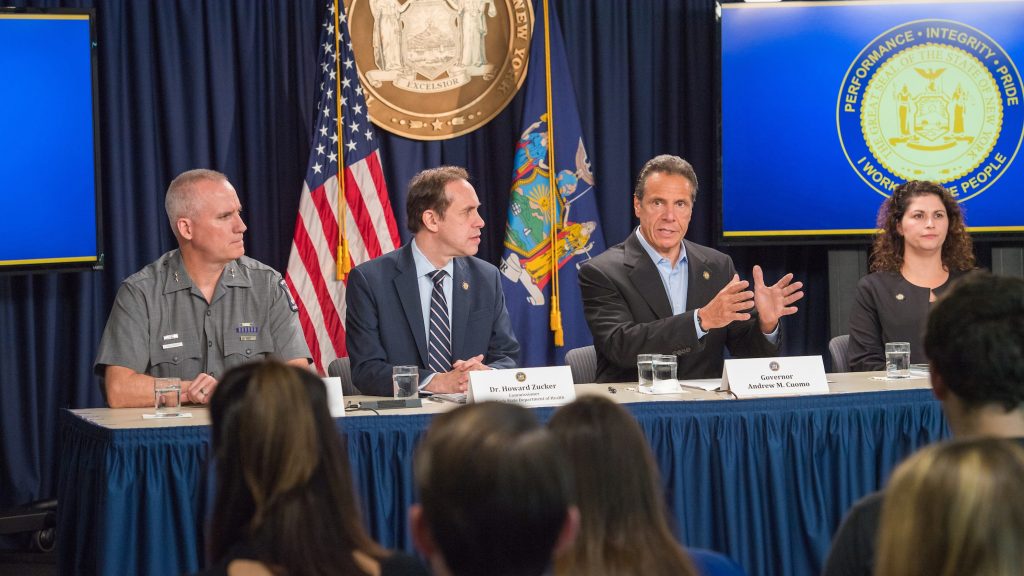 The emergency regulation approved by the New York Public Health and Planning Council:
prohibits the sale of e-cigarettes and e-liquids in characterizing flavors other than menthol or tobacco flavor
applies to all e-cigarette retailers

is a sales restriction and does not impact e-cigarette possession, purchase, or use by individuals

is effective September 17, 2019, with enforcement beginning October 4, 2019
remains in effect for 90 days (through December 16, 2019), and is then subject to Council renewal, revision, or rescission.
The regulations were advanced through an emergency process at the direction of the Governor. The Council "Committee on Codes, Regulation, and Legislation" convened a statewide public hearing before unanimously recommending the sales restriction to the full Council. The full Council immediately met and approved the emergency regulation, following statements by individual members, some of whom voiced concern for unintended consequences of the sales restriction, a desire to explore exemptions for retailers employing enhanced age-verification, empathy for the adults who testified to their addiction battles, and concern over the regulation's exclusion of menthol flavor.
The exclusion of menthol-flavored e-cigarettes from the emergency regulation resulted in prominent national public health groups pulling support for the policy. Health Commissioner Zucker reiterated that the Governor has directed the Council to evaluate including menthol flavor in the regulation, and within 14 days offer a recommendation to the Health Department and Governor's Office. 
The next meeting of the Council's Committee on Codes, Regulation and Legislation is scheduled for September 26, 2019. The full Council will meet October 10, 2019 in New York City.
Related Executive Action Addressing E-cigarette Marketing and Use
A few days prior to announcing his intention to restrict sales of flavored e-cigarette, Governor Cuomo signed an Executive Order imposing further steps to address the uninterrupted epidemic use of e-cigarette by youth and young adults. Indeed, preliminary data announced by the Governor's Office show up to 40 percent of New York 12th graders are current e-cigarette users. Nationally, high school e-cigarette use jumped from 21 percent in 2018 to more than 27 percent in 2019. The intervention followed nationwide reports of pulmonary illnesses and death related to e-cigarette use, realizing the worst outcome wrought by lacking government oversight, and by executive order directs the Department of Health to:
require vapor product retailers to post warnings about e-cigarette use

the state provides a downloadable image stating "Vaping can expose you to toxic chemicals and kill you!"

explicitly expand state-mandated youth prevention curriculum to e-cigarettes, beyond the existing requirement for education related to cigarettes and other tobacco products

this provision will implicate New York Education Law, among others, and likely require collaboration of activities among multiple departments

launch a PSA campaign about the risks of e-cigarette use

we hope to soon learn more from the state about the content, scope, and timeline of the campaign
Outside the scope of the Executive Order, the governor announced his intention to advance legislation restricting deceptive marketing for e-cigarettes. This is an important recognition of the critical role marketing plays in driving tobacco use, especially among youth.
The Governor also directed State Police and the Health Department to immediately partner to ramp up enforcement efforts against retailers who sell to underage youth, with the possibility of criminal penalties. Meanwhile, the Health Department launched a vaping hotline as a resource for consumers to report concerns and learn more about e-cigarettes.
In sum, these executive and agency actions impose a new sales restriction, a required retail health warning, enhanced enforcement, a designated media campaign, and expanded health curriculum. As such, they round out the state's efforts to comprehensively address the epidemic of youth e-cigarette use through complementing existing laws, including product price increases through taxation, policies restricting use, and cessation access.
The Governor's executive actions have the potential to substantially impact the e-cigarette market and norms around e-cigarette use in the Empire State. Meanwhile, menthol-flavored tobacco products remain heavily marketed in every tobacco product category, as do flavored "other tobacco products," such as the little cigars increasingly popular among young people. None of these state actions restrict the authority of local New York governments to impose retail policies aimed at curbing tobacco use, including sales restrictions more stringent (and more permanent) than state law.
Reach out to the Policy Center if we can help you navigate relevant implications of the emergency sales regulation or other recent statewide action.