Purpose
New York's Clean Indoor Air Act was passed to regulate indoor and outdoor smoking as well as to prohibit smoking in all places of employment and restaurants. Smoking means "the burning of a lighted cigar, cigarette, pipe or any other matter or substance which contains tobacco or marihuana." The Act was later amended to prohibit vaping in many of the same indoor and outdoor areas as smoking. However, since the amendment separately defined vaping (as "the use of an electronic cigarette") outside of the definition of smoking, the Act does not automatically prohibit vaping everywhere smoking is prohibited. The original purpose of the law is to reduce exposure to second-hand smoke in enclosed spaces and the health risks associated with second-hand smoke.
Where are Smoking and Vaping Prohibited?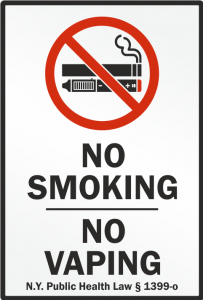 The indoor and outdoor areas where smoking and vaping are prohibited include:
Places of employment, meaning any indoor area "under the control of any employer in which employees of the employer perform services";
Bars, meaning any area, including outdoor seating, "devoted to the sale and service of alcoholic beverages for on-premises consumption";
Food service establishments, meaning any area, including outdoor seating (with exceptions described below) "in which the business is the sale of food for on-premises consumption";
Enclosed indoor areas open to the public containing a swimming pool;
Public means of mass transportation, "including subways, underground subway stations, and when occupied by passengers, buses, vans, taxicabs and limousines";
Ticketing, boarding and waiting areas in public transportation terminals;
Youth Centers and facilities for detention;
Any facility that provides child care, "provided that such services provided in a private home are excluded . . . when children enrolled in such day care are not present;"
Group homes and treatment facilities for children;
All public and private colleges and other educational and vocational institutions;
Within and on the grounds of general hospitals and residential health care facilities, and within 15 feet of entrances and exits to these facilities and their outdoor areas;
Indoor arenas;
Zoos;
Within 100 feet of the entrances, exits, and outdoor areas of schools;
Within 100 feet of any point of the property of a public or association library (smoking only)
Within 100 feet of licensed after-school programs when in session; and
At playgrounds during the day when children under the age of 12 are present.
Note that there are additional laws and regulations governing tobacco use in New York State, implemented outside the scope of the Clean Indoor Air Act. These are summarized on our webpage, Miscellaneous New York State Tobacco Laws.
 How Are People Informed of the CIAA?
Signs must be posted to notify people of any smoking or vaping prohibition. "Smoking," "No Smoking," or "Vaping" or "No Vaping" signs, or the international "No Smoking" symbol must be displayed prominently on signs by the owner or manager of any premises where smoking and vaping are prohibited. The owner or manager of a hotel or motel that has chosen to implement a smoking and vaping policy must post a notice at the reception area about the availability of rooms in which no smoking or vaping is permitted.
Are There Exceptions to the Indoor Smoking and Vaping Prohibitions?
There are exceptions to the indoor smoking and vaping prohibitions. These exceptions are valid only if specific conditions identified in the statute are satisfied and include:
Private homes, private residences and private automobiles;
A hotel or motel room;
Retail tobacco businesses (stores that generate most of their sales from tobacco products and accessories);
Retail electronic cigarette businesses (provided they generate 75 percent of sales from electronic cigarettes, and only permit the use of electronic cigarettes);
Membership associations, meaning non-profit entities created for an educational, political, social, charitable, philanthropic or other similar purpose;
Registered cigar bars generating 10 percent or more of annual gross income from the on-site sale of tobacco products;
Outdoor dining areas of food service establishments with no roof or ceiling enclosure, separated from non-smoking outdoor areas and clearly designated with appropriate signage;
Enclosed rooms in food service establishments, bars, catering halls, hotel and motel conference rooms, and other similar facilities "during the time such enclosed areas or rooms are being used exclusively for functions where the public is invited for the primary purpose of promoting and sampling tobacco products . . .;"
Optional smoking and vaping rooms provided to residents of residential health care facilities; and
Optional smoking and vaping areas on grounds of general hospitals and residential health care facilities
This Law does not Limit Other Tobacco Use Policies
The owner or operator of an area covered by the CIAA may designate broader smoke-free and vape-free areas than state law requires. Additionally, a county or municipality may adopt and enforce additional tobacco use policies, provided they meet or exceed the minimum standards of the CIAA.
Is There a Legal Defense for Violating this Law?
The owner of an area covered by the CIAA may have a defense if a violation occurred while the area was under the control of a third party (e.g., a lessee). Similarly, an employer may have a defense to a violation of the CIAA by an employee if the employer made a good faith effort to enforce employees' compliance with the law.
Enforcement of the Law and Penalties for Violation
 Enforcement of the CIAA lies with the enforcement officer, who is typically the county board of health or another officer so designated by the county legislature or board of supervisors. In a city of one million people or more, the enforcement officer is the department of health and mental hygiene of that city.
The owner or manager of any area subject to the CIAA is responsible for informing persons smoking or vaping in a prohibited area that they are violating this law. Any individual may register a complaint under the CIAA with the appropriate enforcement officer.
If the enforcement officer determines a violation has occurred, a civil (monetary) penalty may be imposed after a hearing, the process for which is detailed in the statute. Any person aggrieved by the decision of an enforcement officer may appeal that decision to the commissioner within 30 days. The enforcement officer, subject to the outcome of any appeal, may bring an action to recover the civil penalty in court.
An enforcement officer is to notify the commissioner of taxation and finance if any retail dealer does not display a "retail dealer certificate of license or registration from the department of taxation and finance."
Waivers of Compliance with the Law
The enforcement officer may grant a waiver of any provision of the CIAA, provided that the person applying for the waiver establishes that (1) compliance with the provision would cause "undue financial hardship" or (2) other factors exist which make compliance unreasonable for that person. Each waiver may be subject to any conditions necessary to lessen the negative effects on persons exposed to resulting second-hand smoke.
Fines for Violation of the Law
The commissioner may impose a civil penalty for violation of this law not to exceed $2,000 for every violation. Any other enforcement officer may impose a civil penalty not exceeding $1,000 for a single violation.
 The CIAA does not grant any private cause of action against an employer, manager or owner of any area regulated by this law solely as a result of compliance or noncompliance with this law. However, neither does the CIAA alter any other theory of liability under which a person may be held responsible for another's exposure to second-hand smoke.
The commissioner shall not circulate any rules or regulations that "create, limit or enlarge" any of these or other smoking or vaping restrictions.