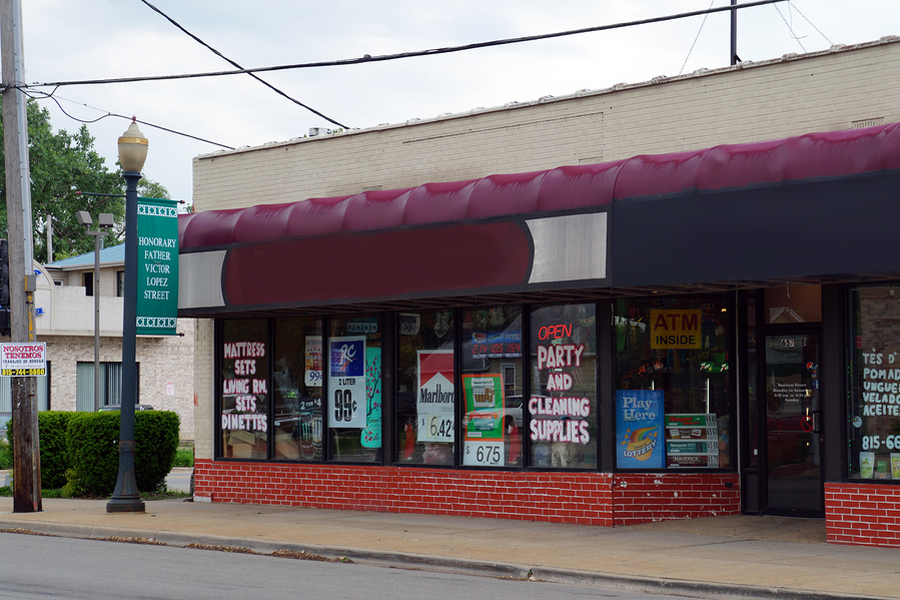 Tobacco companies spend a massive amount of money marketing their products in stores.  This includes payments to tobacco retailers to place tobacco products in the most visible locations in the stores, provide price-discounting promotions and place marketing materials in prominent places visible both inside and outside the store.  As a result, all consumers, including young people under the age of 18, are exposed to a substantial amount of tobacco marketing.  While there are several factors that contribute to adolescent smoking, tobacco advertising and promotion at retail stores where tobacco products are sold (also referred to as the "point of sale") is undoubtedly one of the most significant.
Those concerned with youth tobacco use can advocate for local ordinances that restrict the display of tobacco products, limit the number, type or location of tobacco retailers and restrict price promotions.
For more information on these policy options, see our publications below or contact the center at tobacco@tobaccopolicycenter.org.

Cause and Effect: Tobacco Marketing Increases Youth Tobacco Use
Excerpts from the 2012 Surgeon General's Report "Preventing Tobacco Use Among Youth and Young Adults."
Advancing Tobacco Control: The Known, the New and the Next
Summary and excerpts from the 2014 Surgeon General's Report "The Health Consequences of Smoking–50 Years of Progress."
A Citizen's Guide to New York Tobacco Controls
Guide describing certain federal and New York State tobacco controls and identifying the appropriate enforcement agency for reporting of potential violations.
Point of Sale Policy: New York Communities Taking Action
Guide identifying New York municipal tobacco controls as examples of communities reducing the tobacco industry's influence in the retail environment.
Influencing Youth at the POS
A set of factsheets describing the point of sale tobacco marketing problem and its impact on youth.
Retail Stores as Recruitment Centers
Fact sheet illustrating the manner in which tobacco marketing in the retail environment targets youth.
Tobacco 21
Fact sheet describing evidence supporting an increase in the minimum legal age of access for tobacco products from 18 (or 19) to 21.
The POS Problem in Numbers
numbers, statistics, convenience, store, cigarette, youth, visit, marketing, tobacco, products, initiation
Marketing Expenditures by Tobacco Industry
Fact sheet comparing tobacco industry spending on total marketing expenditures, point of sale expenditures, and price expenditures.
Leveling the Playing Field
Power point presentation presented at January 2016 ATFC meeting describing disparities in tobacco use, industry strategies exacerbating
disparities, and potential policy solutions to  achieve health equity.
What Surrounds Us Shapes Us: Making the Environmental Case for Tobacco Control
Guide leading New York State ATFC grantees through effective message development, particularly around policy change to reduce the burden of tobacco use among underserved populations.
Tobacco Product Marketing at the POS
A power point presentation presented at the 2012 regional trainings describing the problem of point of sale tobacco marketing and its influence on youth.
Tobacco Product Marketing at the POS
Two animated PowerPoint slides from the 2012 regional trainings presentation that describe how the point of sale is an effective recruitment center and the implicit messaging associated with the point of sale.
Disparities Fact Sheet
Fact sheet explaining the disproportionate impact of tobacco marketing on youths, minorities, racial and ethnic minorities, and those of low income and education.
Reducing Youth Exposure to Tobacco Marketing
Report exploring policies to reduce exposure to tobacco marketing at the point-of-sale through comprehensive licensing, zoning and board of health rules.
Tobacco Retail Licensing
Technical Report on Retail Licensing
Tobacco Retail Licensing Model Ordinance
A model ordinance for New York communities seeking to use licensing requirements to limit the number, type, and location of tobacco retail stores.
Countering Common Concerns: Prohibiting the Sale of Tobacco Products at Pharmacies
A document reviewing the common concerns related to prohibiting the sale of tobacco products at pharmacies.
Prohibiting Tobacco Sales in Vermont's Pharmacies
Guide to community education concerning the problem of pharmacy tobacco sales in Vermont.
Pharmacies Send Mixed Messages: Giving the Green, Yellow, and Red Lights to Smoking
Fact sheet describing the problems associated with tobacco sales by pharmacies.
Tobacco Retailer Number, Density & Location: Effects on Youth and Other Vulnerable Populations
A fact sheet describing the effect that density, location and numbers of tobacco retailers have on tobacco use.
Just the Facts: Tobacco Retail Licensing
Fact sheet briefly describing the role tobacco retail licensing may play in reducing tobacco use.
Legal Issues: Tobacco Retail Licensing
Fact sheet briefly describing some of the legal issues to be considered when crafting a tobacco retail licensing system.
Addressing the Point of Sale: Options for Reducing Youth Tobacco Use in Vermont
Technical report discussing policy options for reducing youth tobacco use.
Vermont's Legal Landscape
Report describing the legal framework of Vermont's tobacco control laws
Educating Community Leaders Powerpoint Template
A powerpoint template developed to support Vermont's Community Coalitions as they educate community leaders on the problem of point-of-sale marketing. This powerpoint was created as part of the Community Leaders Toolkit.
Educating Community Leaders Toolkit
Materials designed to support Vermont's Community Coalitions as they plan and prepare for meetings and educate community leaders.